Brazillian Jiu-Jitsu is a great martial art for all ages to learn. Users of all ages will get an excellent workout while also learning important self-defense. It is a great means for children to learn discipline and valuable life skills. If your child is interested in trying Brazilian Jiu-Jitsu, you may be wondering how much it will cost you.
Kids' Brazilian Jiu-Jitsu classes typically cost between $70 and $150 per month. The prices depend on the location of the gym, the size of the gym, the coach's expertise, and the number of classes your child attends throughout the month.
| | |
| --- | --- |
| Expense | Average Cost |
| Classes | $90 per month |
| Gi | $45 |
| Belt (some gi's don't come with a belt) | $15 |
| Mouthguard | $12 |
Interested in helping Project BJJ? The above links are affiliate links for Amazon with gear I would get for a child starting BJJ!
From membership fees to equipment costs, you surely have many questions you need the answers to before you want to invest fully into quality martial arts classes. Read on to learn everything you need to know about the costs of Brazilian Jiu-Jitsu for kids.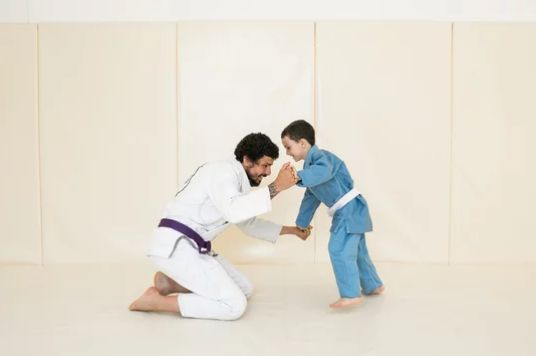 Kids' Jiu-Jitsu Costs: Group Setting Gym Membership
The cost of your child's Jiu-Jitsu classes will depend on several different factors. If you are looking for a group class setting and membership for your child, then prices typically rely on things like:
Location of Classes
Typically the larger the city you live in the more expensive BJJ classes will be. Luckily most gyms offer lower rates for children's classes, compared to adult classes. I found that most gyms charge, on average, $30 less for children's classes than adult classes.
If you live somewhere with a relatively high cost of living, then the gym owners will have to pay more rent on the gym, thus increasing your class costs.
Rural and suburban areas typically have lower lesson prices, while gyms in urban areas typically have higher prestige and higher membership costs. Warehouse-style gyms cost less, while small boutique gyms cost more.
If you are looking for a good place to start your child's classes, choose a gym that is close to you and convenient. There is no need to travel out of your way to an incredibly prestigious gym that your child may end up not enjoying. Begin close to home and see how your child likes the sport and the coaches.
Prestige of the Coaches and Gym
Jiu-Jitsu gyms can also be more expensive if they have coaches with many years of practice and expertise. The more qualified and prestigious the coaches are, the more expensive the classes will be. 
Because Brazillian Jiu-Jitsu is a difficult and prestigious sport, its classes will likely be a bit more expensive than other martial art forms, such as wrestling. The prestige of a gym is determined by:
Titles won collectively
Titles won by coaches
Successful alumni of the gym
Success of students taught by the gym's coaches (throughout their careers)
Class Duration and Frequency
Jiu-Jitsu classes are usually bought in the form of a gym membership, paid monthly. This membership typically includes a certain number of classes per week or month. Most memberships will offer four to eight classes per month, at around $70 to $150 per month.
Many gyms will have two monthly payment options for kid classes; one for classes once a week and another for classes twice a week.
The cost of your child's classes will depend on the number of classes they take during the week. If your child wants to practice every day, then the overall cost of classes will be higher. If your child only practices once a week, then you will not be spending as much.
Kids' Jiu-Jitsu Costs: Private Lessons
Private Jiu-Jitsu classes provide a great way for your child to have one-on-one time with their coach so that your child can better understand technique and form. Private lessons will be more expensive than group classes because the coach is fully engaged with your child, constantly observing and correcting. Costs for private lessons vary, depending on:
The location of the lessons (whether in your house or at another location)
The expertise and credentials of the coach
The length and frequency of the lessons
Costs of private lessons can vary from $70 to $150 each for one hour-long class. Private lessons are typically a half-hour to an hour-long. Lesson rates will often come in packages, where you purchase a number of classes at one fixed rate. Buying multiple classes is often cheaper than buying stand-alone classes.
Private lessons are typically carried out in martial arts gyms, between the hours of scheduled group classes. If lessons are in a gym, then you will likely need to purchase a gym membership. If a coach comes to your house to give your child lessons, the lessons will likely be much more expensive, but a membership fee will not be required.
As with group classes, private classes will typically cost more if the coach is more seasoned and prestigious. You may want to invest in a professional, seasoned coach if you think your child will stick with the sport and is serious about learning and improving. After all, the best athletes do learn from the best coaches.
Kids' Jiu-Jitsu Uniform And Equipment Costs
Brazillian Jiu-Jitsu is typically performed in a specific kind of training apparel, called a Gi. Gis are made from lightweight cloth and resemble short robes with pants. A Gi is tied with a colored belt that indicates the wearer's ranking. If your child is interested in Jiu-Jitsu, you will have to invest in a Gi, especially if lessons are carried out in a gym.
| | |
| --- | --- |
| Equipment | Average Cost |
| Gi | $45 |
| Belt (some gi's don't come with a belt) | $15 |
| Mouthguard | $12 |
Interested in helping Project BJJ? The above links are affiliate links for Amazon with gear I would get for a child starting BJJ!
I wrote a review for my favorite mouthguard you're interested in getting the kid's version of it! (kids-sized mouthguard link).
The price of Gis for children typically ranges from $25 to $75. Some gyms require students to get a specific, personalized Gi, which may cost more than a generic Gi ordered off of Amazon. Different gyms have different rules, and Gis are something you will want to ask about when comparing pricing. Some gyms may not require them, at least to start.
If you are having private Jiu-Jitsu lessons carried out in your home, you will first need a mat for your child to tumble on. Mats are incredibly important for your child's safety when performing this sport. One wrong hit to the head could seriously injure your child, so investing in a mat is necessary and likely required by in-home coaches.
A medium-sized, good-quality tumbling mat will likely cost you between $150 (low-end) to $300 (higher-end). Full-sized martial arts mats that cost hundreds of dollars will not be necessary unless you want an entire home gym.
Choosing The Right Jiu-Jitsu Classes For Your Child
If your child has shown an interest in the sport, you may want to get them started right away. However, make sure you have all the information so you can feel confident in your choice. When deciding on a Jiu-Jitsu class for your child, you must consider:
Price of classes
Quality of teaching
Your child's enjoyment
If you have the budget for it, most coaches recommend training 1 or 2 times a week for maximum engagement and learning. If you wait too long between classes, your child will likely forget the skills they have learned and will have to be retaught in the next class. This can be a waste of time and a waste of your money.
Another recommendation for maximum learning and progress is to invest in a monthly or bi-weekly private lesson. If your child goes to a large gym with big classes, they may not be getting the specific attention they require to succeed. An occasional private lesson would aid your child's learning and grow the bond between student and coach.
If your child requires a lot of attention to learn effectively, private lessons may be the best approach. If you have the funds, private lessons will allow your child to have the coach's full attention, and the coach will be better able to teach and correct your child's form. If your child learns well in a group, then group classes may be all you need.
Conclusion
The cost of Brazillian Jiu-Jitsu classes for your child will be a large investment. If your child sticks with it, though, this investment will be worth it. Learning Jiu-Jitsu helps children with discipline and also helps them to become agile, fit, and capable of self-defense.
If you need help paying for Jiu-Jitsu classes, some gyms may offer low-income rates and discounts that will help you to afford your child's education in this great skill.
Keep in mind that many gyms offer a free class so there is no risk in bringing your child to a class just to try it out!
Additional Reading
---
Sources
Let's Roll BJJ: How Much Do BJJ Classes Cost?