Protection: 4/5 for a medium-sized guard. I never had a large impact on my mouth since owning one so I cannot give it a 5/5 because of that.
Ease of molding: 5/5. This guard was very easy to mold and the instructions on how to mold it were written clearly!
Comfort: 5/5. Most of the time I forget the mouthguard is even in my mouth. just be sure to get a proper fit otherwise you may feel it rubbing against your gumline or lips.
Quality: 5/5. The mouthguard is made of good materials and holds up really well. During the modeling stage, I felt no concern about the guard deforming and becoming unusable.
Price: $. One out of five money signs because it is so well priced that you can easily afford to replace it when it gets old and the quality of the guard is superb.
Recommend: YES! I've bought two already and fellow teammates have also bought this guard and are really enjoying it.
If you'd like to purchase the Venum Challenger on Amazon and help support Project BJJ use my link.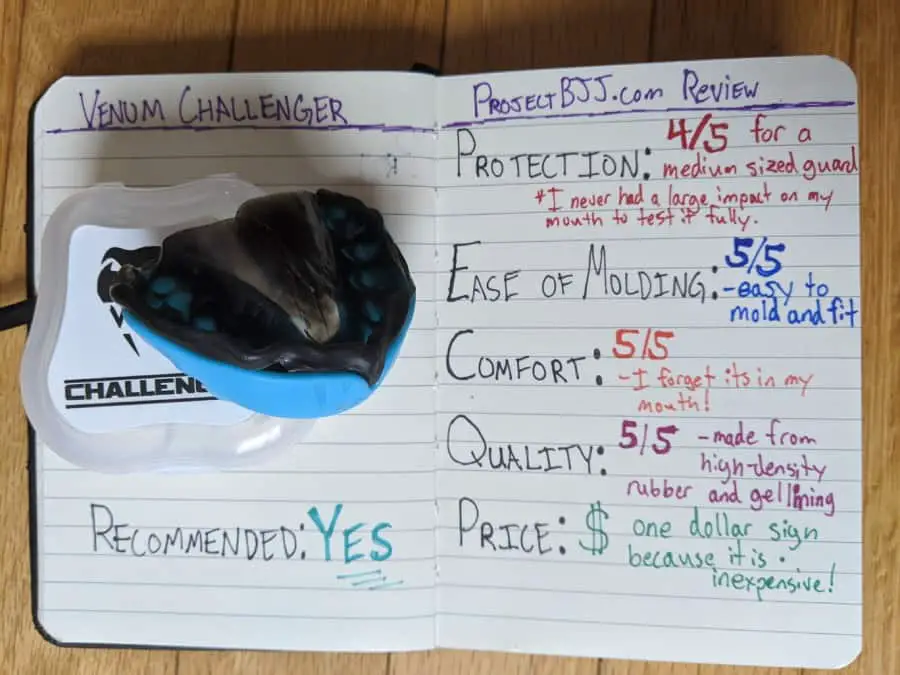 Summary
The Venum Challenger is a single side mouthguard that looks small when you first see it, but molds and fits securely in the mouth. It is a two-layer design. The inner gel layer forms to your teeth while the outer high-density rubber layer helps protect your teeth from impact and keeps the mouthguard in place.
When fitted correctly the mouthguard sits snuggly, comfortably, and securely in your mouth allowing maximum protection, ease of breathing, and the ability to talk with it in the mouth.
Molding the mouthguard is a straightforward process and if it does not feel like the molding fits properly it is okay to redo the process and re-mold it to your teeth, just be sure to fold the gel layer back on itself to allow for proper tooth molding.
I highly recommend the Venum Challenger as they are comfortable while offering good protection for an off-the-shelf mouthguard.
I have owned two already and I am going to be ordering a third one. The only reason I am buying another is that it is good practice to replace your mouthguard every 6-8 months. I actually keep my previous one in my bag as a backup! I've never had one fall apart or break on me yet; however, the inner gel layer can start flaking away nearing the 6-month mark.
First Impressions
When I first opened the Venum Challenger I thought I received the wrong mouthguard. It was so small that I thought they may have sent me a youth size instead of an adult!
I quickly looked on Amazon reviews to see if anyone else has the same thought and sure enough, others thought the same but many had no issues fitting it. Whew!
As a head size reference I take a size large motorcycle helmet, L/XL fitted hat, all of my wisdom teeth fit in my mouth, from the middle of k9 tooth to k9 tooth is ~1.75 inches (4.5cm).
After the size impression passed I got to look at the build and color. The first one I got was black with a red layer that went across the teeth, the second one I got was black and teal. They looked good and felt firm but soft.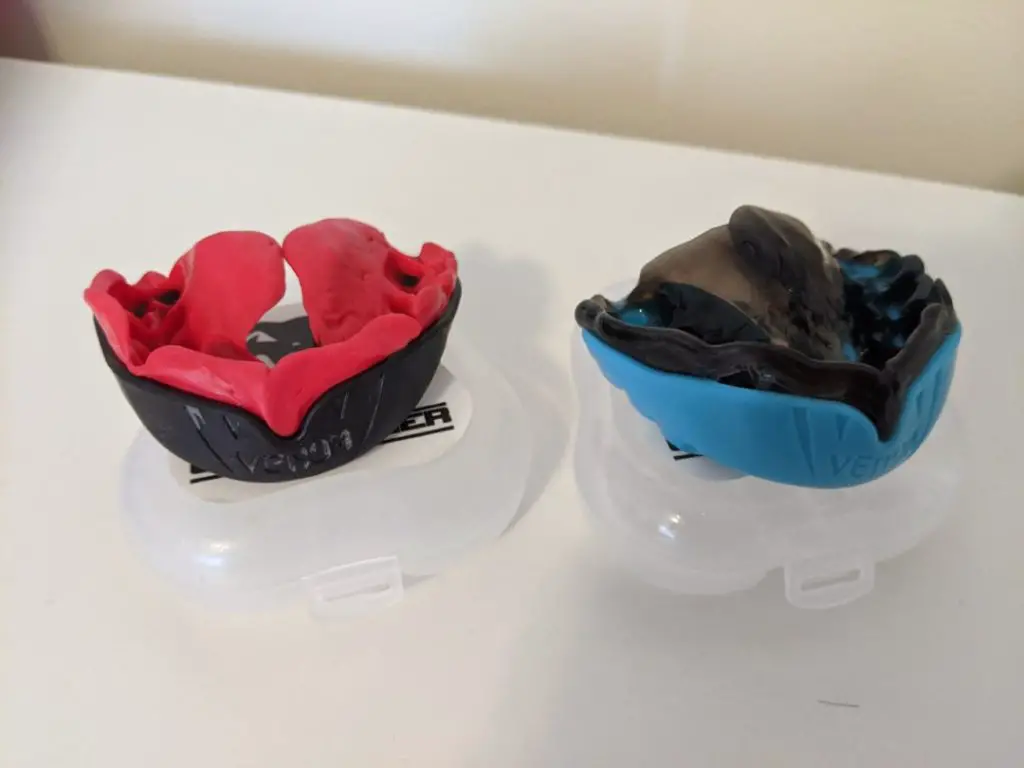 Why Type Of Protection Does The Venum Challenger Provide?
The Venum Challenger mouthguard offers great protection due to its ease of modeling and materials used. The materials help you create a tight, snug mold that will allow impacts to be evenly distributed across your teeth while the outer rubber shell is soft enough to not cause discomfort when biting your lip or tongue.
The high-density rubber outer shell offers impact protection by effectively distributing the impact force across the teeth, but is soft enough to allow you to clench your jaw or bite your lip/tongue without breaking it open.
The inner gel frame molds to your teeth firmly which forms a soft protective layer between your teeth and mainframe. Because it molds to your teeth so precisely it allows force to be evenly distributed across them.
Ease Of Molding The Venum Challenger
The Venum Challenger comes with a set of instructions that are easy to read and follow to begin the molding process. The mouthguard forms to your teeth easily because of the inner gel layer. While the outer (high-density rubber) layer molds to the shape of your teeth and gum line to securely hold the mouthguard in the mouth.
Because of the design, if you do not get a tight mold the first time it is easy to re-boil and re-fit. The first one took me three attempts to get a tight mold, while the second one I bought only took me one try.
This was the second mouthguard I ever used so the molding process was still new to me. Following the instructions that came with the mouthguard allowed for an easy process of fitting.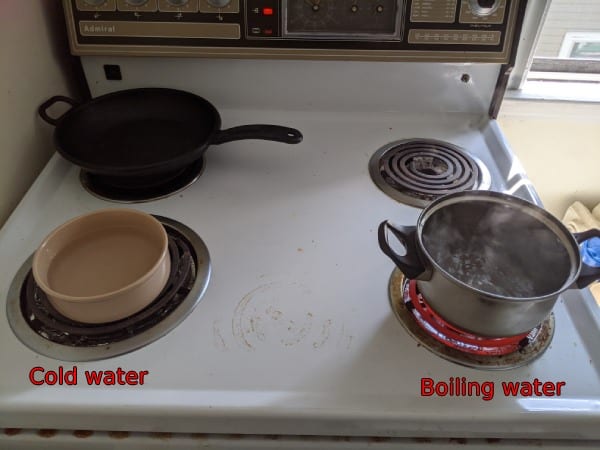 The first time I did it, I didn't get a tight mold so I had to re-boil it. Before re-molding, I let the mouthguard cool down and followed the instructions again. However, as it was boiling I folded the gel layers back into the middle of it, which allowed me to easily get a new tooth molding too.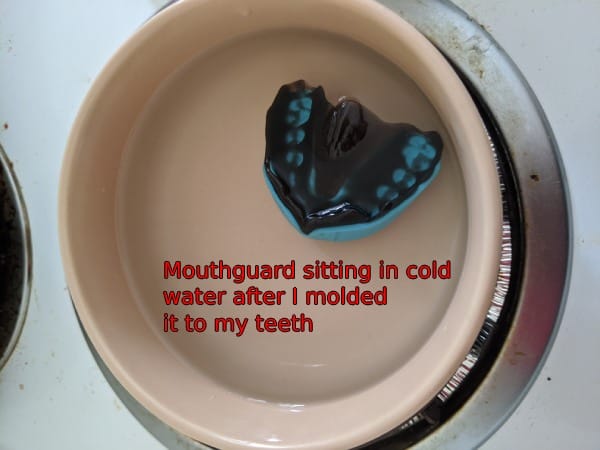 During the time the mouthguard is in your teeth be sure to squeeze the top of the mouthguard so it forms to your gum line securely. Otherwise, you'll either have it falling out of your mouth or have a hard bit that sticks out and scraps your inner lip or gum line.
How Is The Fit Of The Venum Challenger?
The fit of the Venum Challenger is snug, secure, and covers your upper teeth/gum area nicely. Proper molding and fitting allow the mouthguard to stay in your mouth even when talking or breathing with your mouth open.
The only times that the mouthguard completely fell out of my mouth is when I'm laughing or try talking as someone is trying to straggle me, yes I enjoy fun banter while rolling.
That being said the mouthguard only came out of my mouth ~8 times over the 14 months of using it. I've had two Venum mouthguards during this time as I replace my mouthguard every 6-8 months.
I'd say that's really good for a mouthguard you mold yourself and to consider that most of the time it was coming was when I was laughing or talking during a roll!
Is The Venum Challenger A Comfortable Mouthguard?
The fit of the Venum Challenger is very comfortable as long as your molding was successful. It's easy to forget that you have a mouthguard in your mouth with the Challenger. There are many times after class that I am talking to teammates and as we're exiting the building I realize my mouthguard is still in!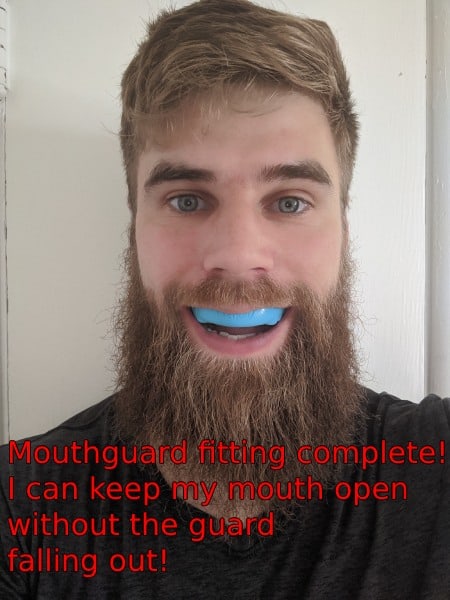 It is important to get a proper molding with the Challenger otherwise the mouthguard can cause discomfort. The reason for this is the upper side of the outer, rubber layer can have an edge on it that'll rub your inner lip or gum line.
During the molding process make sure that you squeeze and round out the gum line to prevent this from happening.
What Is The Quality Of The Venum Challenger?
The Venum Challenger is made from great materials and is a unique design compared to other mouthguards on the market because of its two-layer design. Its outer shell is made of a high-density rubber frame and while the inner frame is a gel liner.
The only signs of wear I noticed after 8 months of use was that the inner gel layer started to have little bits fall off of it. Near the 7 month mark, once in a while, I would get small bits of the gel in my mouth. Nothing major and with this style of mouthguard you may find gel bits earlier because there are areas in the gel layer that may be pretty thin from the molding process.
Overall, the quality is superb, and even when biting the mouthguard hard I never felt like I would bite through it and never felt as though the mouthguard would break.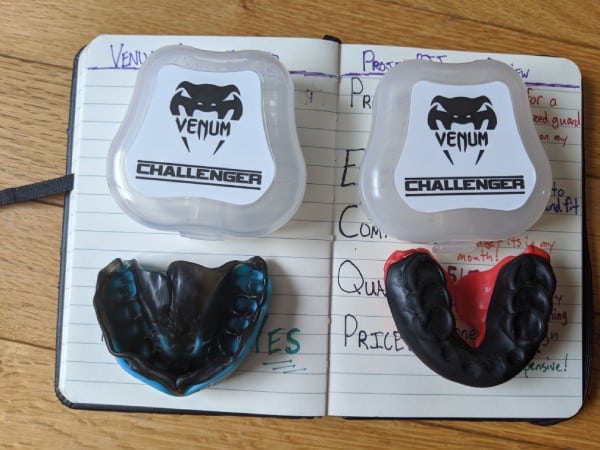 Conclusion
Overall, the Venum Challenger is a great mouthguard when considering a new mouthguard. I have used two of them over the last 14 months and both have held up perfectly and have prevented many tongue and lip bites.
Fitting the mouthguard is a simple and forgiving process which is great for first-timers or someone that has been in the sport for a while. The most important part of a mouthguard is fitting it properly, otherwise, it will not provide sufficient protection. The Venum Challenger will allow you to get a good fit.
The price of the mouthguard is very competitively priced and for the quality and protection you are getting, you cannot go wrong!
I know I'll be buying many more in the future and hopefully, the mouthguard works well for you!
Wondering if you should invest in a mouthguard? Check out my other articles talking about it!
If you'd like to purchase the Venum Challenger on Amazon and help support Project BJJ feel free to use my link!