Buying your gi is one of the most important decisions you can make when it comes to Brazilian Jiu-Jitsu. After all, if you are a keen exponent of this martial art you are going to be wearing your gi a lot and (we hope) washing it regularly too. This means that it has to be comfortable as well as resilient. Most importantly it needs to be tough enough to withstand grappling without ripping or becoming frayed by wear and tear.
In previous years, all gis were manufactured in cotton. However, today bamboo and hemp have entered the market and both these materials offer a great alternative to cotton.
Bamboo and Hemp Gi's are strong fabrics, lightweight, breathable fabrics that also have anti-bacterial qualities. Bamboo has little to no shrinkage, whereas hemp will shrink in hot water or the dryer. Both materials prevent odor buildup whereas bamboo also has the quality to wick away sweat. Finally, they are both more eco-friendly than cotton!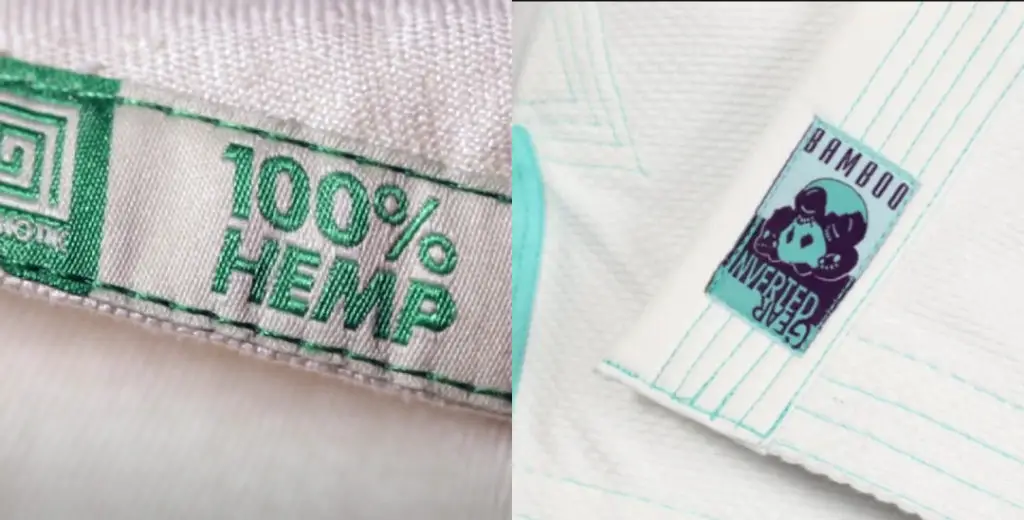 The Bamboo Gi
Bamboo Gi's are lightweight, breathable, anti-fungal, anti-bacterial, easy to care for, and more durable than cotton. Bamboo wicks away sweat from the skin and does not hold smells as easily as cotton. They have very little to no shrinkage which means throwing it in the dryer is not an issue; however, if you shrink gis to get a better fit this may be a deterrent.
Bamboo fabric is more sustainable to produce than cotton and much easier to grow so it does tick the ecological box. However, if you just want a Gi that is strong and comfortable to wear it is a great choice regardless of eco reasons.
Bamboo fabric is extremely soft and comfortable to wear. Additionally, it has anti-bacterial and anti-fungal properties so is less likely to smell bad after a couple of wears.
Bamboo fabric is fully breathable so it is great for warmer climates and it does enable perspiration to be wicked away leaving you feeling relatively dry and comfortable in comparison to other materials.
Because the fabric is so strong, it is not as heavy as other materials either so it doesn't feel like you are in any way hampered by your clothing. And when it comes to washing it, bamboo fabric is a dream. It does not lose its shape or shrink and it just becomes softer and more comfortable with every wash.
It is very hard to find any downside to wearing a bamboo gi for BJJ but one issue that may deter buyers is the price. Pure bamboo fabric Gi's are more expensive than the other alternatives.
Some manufacturers are offering gis comprised of a blend of 70% bamboo, 30% cotton which is generally a lower price and might be a good choice if you fancy treating yourself to a bamboo gi but lack the budget to afford it.
The Hemp Gi
Hemp is extremely durable, breathable, and anti-bacterial. Hemp will take a few washes to become softer and expect some shrinkage when washing in hot water or drying. It is 4x more durable than cotton, which means they will last you a long time!
Forget all the jokes about getting high from your Gi, industrial hemp fabric is a fantastic material that is suitable for many purposes and it must be one of the most ecological materials on the planet. Hemp is called weed for a reason and like all weeds, it grows anywhere with the minimum effort so it undergoes far less processing than either bamboo or cotton.
Hemp fiber is strong. It is 4 xs stronger than cotton and is fully breathable. Like bamboo, it has anti-bacterial properties so remains a lot fresher than cotton. It will keep you cooler than cotton too as it is breathable and because of this; it will not cause you to get cold if you have to wait around after getting hot and sweaty.
Hemp is not as lightweight as bamboo and there can be issues with washing. Expect some shrinkage in the first few washes so it is important to consider this when you choose your size.
Hemp initially is not as comfortable as bamboo either and some BJJ fighters report that it can cause them to feel hampered because this material is so heavy and stiff. The secret is to wear it in and wash it regularly and the stiffness should disappear making it feel extremely comfortable.
Many BJJ practitioners have very good reports of the hemp fabric gi. It is extremely strong and long-lasting so it should have a longer lifetime than either bamboo or cotton.
As with bamboo fabric, hemp fabric is often blended with other materials such as cotton so a blend may be a good option if you are watching your budget.
Bamboo And Hemp Are Eco-Friendly
Both hemp and bamboo are more eco-friendly to produce than cotton; requiring less water, fewer pesticides in cultivation and fewer chemicals in production too.
The bleach used in cotton production can pollute the local environment to devastating effect in some countries. And with the average pair of cotton jeans needing over 20,000 liters of water in the manufacture and remember a cotton gi is certainly heavier, the serious concerns raised about the ethics of the cotton industry means it is time that we moved away from this material and switched to an alternative.
The good news is that changing to bamboo and hemp does not mean that these more natural materials are in any way inferior.
That said there are some advantages to cotton Gis. They are usually cheaper than bamboo and hemp and are certainly hard-wearing. However, the truth is that bamboo and hemp both have serious advantages that take the average Gi to another level.
Conclusion
Bamboo and Hemp both have their strong points and weaknesses and the choice comes down to what you need for your Gi and your personal preference.
Bamboo is immediately comfortable; washes well with no shrinkage and is lightweight without compromising on strength. If you have a lighter build or you are likely to be wearing your Gi a lot, this material is certainly a winner.
Hemp also has some great advantages. After the initial breaking in period, wearers report that this material is comfortable but you do need to be sure with your sizing as you may experience some initial shrinkage. That said hemp is extremely durable and resilient so you will probably be able to wear this Gi for years.